Enterprise Resource Planning (ERP)



Epicor next-generation ERP software represents a game changing opportunity for business. Epicor is designed for the way people work today, is built for business, yet is ready for change. Epicor is a single end-to-end software solution for business.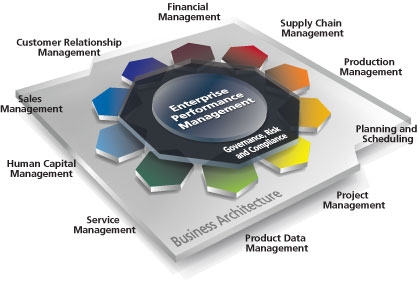 EPICOR Manufacturing
Regardless of what you manufacture, Epicor provides a solution that enables the manufacturing process, from planning and procurement to job costing, scheduling, production, financials and more. Our solution goes beyond traditional ERP, encompassing customer relationship management, business intelligence and e-commerce. Most important, Epicor manufacturing solutions seamlessly manage complex requirements such as configure-to-order plus repetitive requirements such as make-to-stock, offering versatility that supports a truly mixed-mode manufacturing environment.
EPICOR Distribution
Epicor distribution solutions accelerate the order-to-delivery cycle, provide faster access to the data you need to increase inventory turns, and improve customer service and profitability. Solution components include comprehensive supply chain management facilities for order entry, purchasing and inventory, plus advanced supply chain execution capabilities such as warehouse management. The extended value chain is supported by both customer and supplier relationship management, with robust financials and operational business intelligence providing additional support.
EPICOR Retail (POS)
Driving sales, enhancing customer service and pushing mult-channel enterprises to new levels of profitability are the keys to running a thriving retail operation. Epicor retail solutions provide retailers the real-time tools they need to achieve success. These tools include point-of-sale (POS), sales floor and back office systems, plus connectivity systems that link multiple stores to corporate applications and one another.
EPICOR Hospitality
Few industries are more competitive than hospitality. Epicor hospitality solutions provide the tools you require to refine operations, manage growth and improve profitability. Components include comprehensive management, back office, financials and business intelligence.
EPICOR for Service Enterprises
In a fast-paced world dominated by services, opportunities and challenges for the service sector have never been greater. Whether you're in a financial or professional services, or in a non-profit organization, Epicor services solutions help you build toward even greater success. From bid management to project accounting, engagement deliver to resource management, our solutions streamline all aspects of your service organization.